City of Boynton Beach Library
A mural painted in the children's reading room of Boynton's Public library. A cartoonish mural of sharks, fish, snorkeler and a pirate ship!
City of Lake Worth, City Hall
A City of Lake Worth, Florida Art in Public Places mural project painted in their Utilities Complex. An underwater scene that actually GLOWS IN THE DARK!
The Lighthouse Residence, Lantana Florida
A mural painted on the side of a residential complex showing the local Lighthouse and some amazing Mahi Mahi fishing at sunset!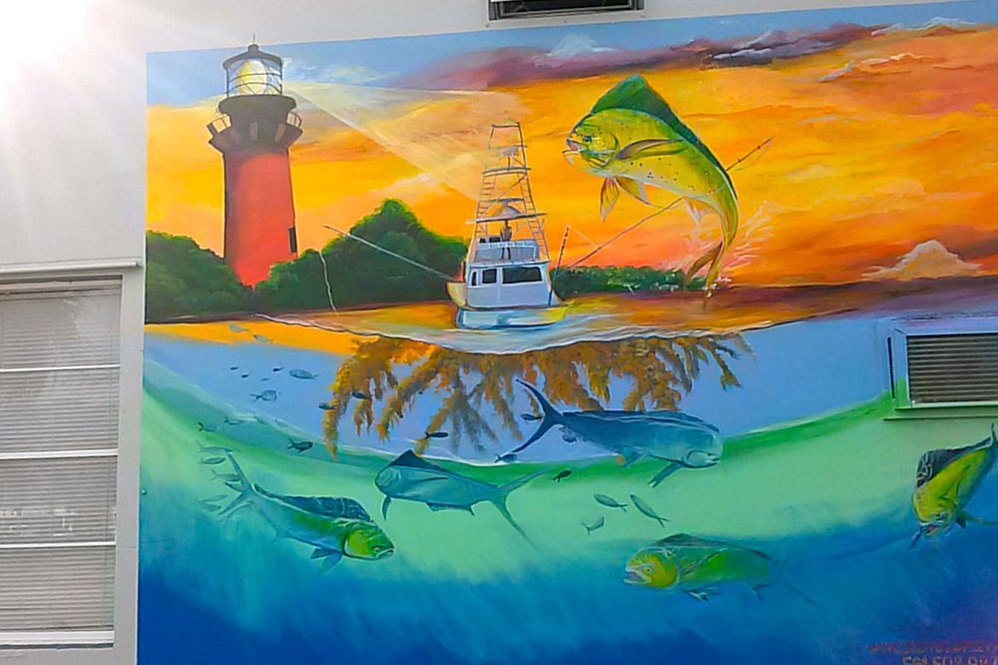 Ft. Lauderdale, Florida
This is a stand up plywood cutout made for a businesses event. It's their mascot and lets customers to take pictures with their face showing through!
Beachcomber Art Store
A huge mural painted on the entire building with a sitting mermaid, a reef scene, mermaids swimming on all sides of the building along with a sunken chandelier!
Dave's Fish Shack, City of Lake Worth
A large panel I painted for the City of a blue marlin hooked on a colorful lure. An Art in Public Places project I was honored to be a part of.
If You Can Describe It, I Can Design It